Click to download our Boxed Lunch Menu
Defazio's Catering has been serving box lunches in Richmond VA for years now and we've learned a lot about what our customers want in a great lunch. Only the highest quality ingredients go into our sandwiches, including bread from local bakeries and some of the finest imported Italian ingredients you can find anywhere. If you're looking for a healthier alternative, don't forget to check out our boxed salad menu as well!
Our box lunches feature some of the most delicious traditional and Italian sandwiches you can find in Richmond, VA and beyond. Using only the finest ingredients, we lovingly craft each sandwich to blow our customers away with freshness and vibrancy in each and every bite. If you're looking for a delightful Italian sandwich, we would highly recommend the Italian Grinder- featuring some of the finest imported Italian prosciutto around. If you're in the mood for a southern-style sandwich, our Fried Chicken sandwich comes highly recommended.
No matter what the occasion, DeFazio's Catering has got you covered for all your box lunch needs- including everything from our delightful sandwiches, salads and sides to beverages and desserts. So if you have a business lunch or any other type of event coming up and would like to find out more about our box lunches in Richmond, VA give us a call today!
Sandwiches come complete with DeFazio's house sauces and blended dressings along with meal kits, extra napkins and a mint.
Minimum order of 10 Vegetarian   Heated
Traditional Sandwiches
Includes chips, cookie, pickle, and chef's choice of  pasta or potato salad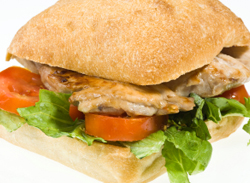 Roasted Chicken-Ciabatta
Roasted chicken, arugula, provolone and basil aioli.
$9.25
Chicken Salad-Multi Grain
Homemade, all white meat chicken, with lettuce and tomato.
$8.79
Tuna Salad-Multi Grain
Homemade, chunk white tuna, with lettuce and tomato.
$8.79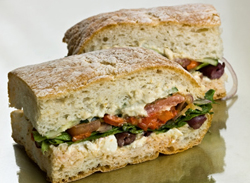 Roast Beef-Multi Grain
Tender roast beef served with mild, creamy horseradish sauce, cheddar cheese, lettuce and tomato.
$9.25
Classic Turkey-Multi Grain
Smoked turkey, DeFazio's original roasted red pepper mayo, havarti cheese, lettuce and tomato.
$8.79

Turkey Basil-Multi Grain
Smoked turkey, smoked gouda, dressed with basil aioli, lettuce and tomato.
$9.25
Black Forest Ham – Sourdough
Black Forest ham, Swiss cheese, dijonnaise, lettuce and tomato.
$8.79
---
Italian Specialty Sandwiches
Includes Tuscan White Bean Salad and Biscotti
Italian Grinder – Crispy Baguette
All imported Italian prosciutto, Genoa salami, Sicilian pepperoni, capicola, smoked provolone, roasted red peppers, Italian vinaigrette, oregano and extra-virgin olive oil.
$9.49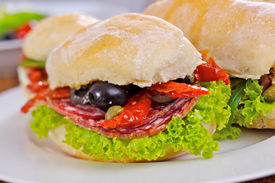 Caprese Classic-Ciabatta
Roasted yellow peppers, arugula, fresh mozzarella, vine ripe tomatoes, with basil aioli.
$8.95
Chicken Caesar Roman Style – Ciabatta
Arugula and romaine lettuce, roasted chicken breast, crisp pancetta, parmesan cheese, shredded sun dried tomatoes.
$9.49
Pepperoni and Provolone – Baguette
Imported pepperoni, provolone, sweet Italian banana peppers, with Italian dressing.
$8.79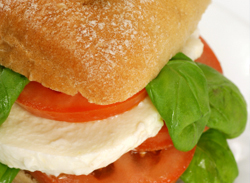 ---
Old Fashioned Sandwiches
Includes side of slaw, chips, pickle, cookie
Deli Style Corned Beef – Rye Bread
Corned Beef and Swiss cheese and brown mustard.
$9.50
Fried Chicken – Split top roll from local bakery
Lightly breaded fried chicken breast with Duke's mayo.
$7.95
Fried Fish – Split top roll from local bakery
Lightly breaded tilapia with tarter sauce and shredded lettuce.
$7.95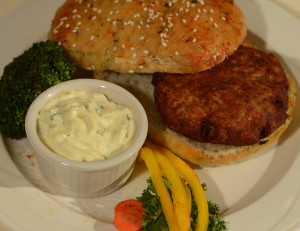 Fried Crab Cake – Split top roll from local bakery
Backfin crab meat carefully blended and flash fried served with tarter sauce.
$9.50
Fried Bologna – Split top roll from local bakery
Thick slice of bologna with fried onions, mayo and mustard on the side.
$7.95
BLT – Multi Grain
Crisp bacon, fresh iceberg lettuce, and tomato (Hanover when available).(Not Toasted)
$8.79
Mason – Dixon Meat Loaf-Sourdough
Homemade meatloaf, Duke's Southern mayonnaise blended with Yankee mustard.
$8.79
Classic Club – Club Wheat
Ham, turkey, bacon, with lettuce, tomato, Duke's mayo, Swiss and American cheese. (Not Toasted)
$9.79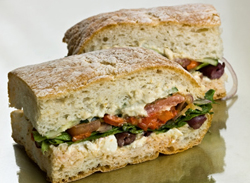 Egg Salad – Club Wheat
Homemade egg salad served with shredded iceberg lettuce.
$7.95
---
Vegetarian Selections
Garden Wrap with Ranch Dressing
Mixed lettuce, cucumber spears, tomato, roasted red pepper and other chef selected seasonal vegetables.
$8.79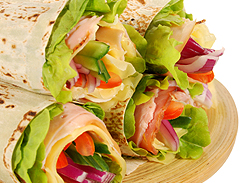 Grilled Eggplant – Ciabatta
Grilled eggplant, roasted red onion, tomato and hummus on freshly baked ciabatta bread.
$9.49
Greek Wrap
Crisp lettuce, diced tomato, imported Feta cheese, cucumber, olives, red onion and traditional lemon, olive oil and oregano dressing.
$8.79
Beverages
Iced Tea freshly-brewed, 1 gallon $7.49
Lemonade, 1 gallon $7.49
Cranberry Juice – Ocean Spray, 6 ounces $1.25
Tomato Juice – V8, 11 ounces $1.75
Coffee Freshly-brewed, 96 ounce box $13.75
Orange Juice – Tropicana florida, 10 ounce bottle $2.00
Coke, Sprite or Diet Coke, 12 ounce can $1.50
10 pound bag of ice $1.49
Sweets (by the dozen)
Lemon bars – homemade $19.99
Brownies – Chocolate $18.00
Chocolate Chip Cookies $11.88
Sugar Cookies $11.88
Oatmeal Raisin Cookie $11.88