Lunch Platters and Packages
Click to download our Platters Packages Combos Menu
A large variety at a great value! Perfect for 20+ guest. Don't have 20? Enjoy the leftovers!
Minimum: 10 people. Vegetarian   Gluten-Free
Platters, Wraps and Rolls
Assorted Sandwich Platter
A DeFazio's Original. Includes assortment of our most popular cold specialty sandwiches; overstuffed sandwiches, flavored wraps and baguettes. Complete with pasta salad, pickles, chips, fresh baked desserts and mints. Minimum: 10 people.
$9.95 (per person)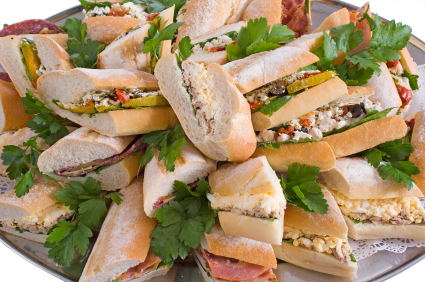 Wrap Platter
20 halves. Multi-flavored wraps generously stuffed with our most popular ingredients: 4 ham & swiss, 4 roast beef and cheddar, 8 smoked turkey with havarti, 2 Italian and 2 veggie.
$79.00
Salad Wraps Platter
20 halves. Multi-flavored wraps generously stuffed with our most popular ingredients. 5 chicken salad, 5 tuna salad, 2 shrimp salad, 5 egg salad and 3 veggie.
$79.00
Mini Meat And Cheese Rolls
18 pieces. 6 ham, 9 turkey, 3 roast beef served with dressings on side and garnished with shredded lettuce. Great for an afternoon snack!
$39.00
Mini Platter – Croissant Assortment
20 pieces. Light, buttery croissants filled with homemade favorites. Includes 6 tuna salad, 4 egg salad, 6 chicken salad and 4 shrimp salad garnished with shredded lettuce and grapes.
$44.00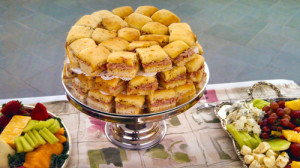 Ham Biscuit Platter
24 pieces. Sister Schubert rolls buttered and filled with country ham and Black Forest ham. Sweet, smoky and just the right amount of salty!
$36.00
Packages, Combos and Suppers
Casual "Cocktail Party" Package $31.95 (per person)
Choose one slider, one pasta station, one carving station, and three hot hors d'oeuvres and three cold hors d'oeuvres.
"Pasta Lover's" Italian Supper $18.95 (per person)
Tomato Bruschetta, Italian salad and your choice of pasta:
spaghetti, penne, rigatoni, tortellini or capelini with marinara, alfredo, ailio, mushroom, pesto or fresh vegetables herbs and EVO.
Choice of meatballs or sausage and garlic cheese toast
Executive "Surf and Turf" Package $35.95 (per person)
6 ounce filet mignon and 4 ounce Maryland lump crab cake, Caesar salad, baked potato, steamed asparagus, rolls and butter.
"Chicken and Meatloaf" Southern Supper $18.95 (per person)
Tossed salad or cole slaw, fried chicken (bone-in breast), meatloaf (7 ounces), mashed potatoes or macaroni and cheese, green beans or peas and carrots, rolls and butter.
"Chicken and Pork" BBQ Combo $12.95 (per person)
Homemade Chicken BBQ and Pork BBQ (5 ounces of each), Southern coleslaw, baked beans w/ bacon & onion, 20 rolls. Chicken only (8 ounces) $9.95 per person. Pork only (8 ounces) $9.95 per person
Summer "Griller" Combo $14.95 (per person)
Grilled chicken and your choice of grilled black angus burger, all beef hot dog or bratwurst, macaroni and cheese, corn on the cob and watermelon.
"BBQ and Grill" Throwdown (50 person minimum) $22.95 (per person)
Our chef will grill on location a perfect combination of:
Baby back ribs (4 bones), chicken legs, breasts, thighs, black
angus burgers, all beef hot dogs and your choice of 4 of the following:
Potato salad
Pasta salad
Black bean and corn salad
Cole slaw
Baked beans
Fruit salad
Tomato and cucumber salad
Corn on the cob
Condiments included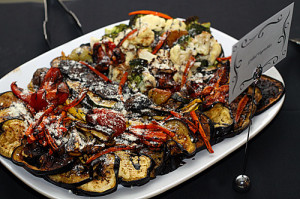 Add grilled seasonal vegetables or black bean cakes $6.95 (per person)
$3.95 (per person)
"Golfers Combo" Special Supper Package Throwdown*
Save 25%! A $49.00 value only $39.95 "Best 3 par in town"
Continental Breakfast
Yogurt fruit, salad breakfast, breads bagels and condiments
Boxed Lunch
Ham, Turkey or Roast Beef with chips, pickle, side salad, cookie and mint
Black Angus Steak Fry
Black Angus Rib Steak (10 ounces) grilled on location.
Idaho baked potato with all the toppings.
Caesar salad with croutons and Parmesan cheese.
Garlic toast rolls and butter.
Sweet tea with lemon.
Chef's selection of cookies, brownies, blondies and cupcakes.
50 person minimum. For groups of 100 or more, both the chef and propane grill fees are waived.
Sides:
Large side (serves 28 to 32 people). Less than $2 per person!
Small side (serves 14 to 16 people).
Fruit Salad
Sm. $29.00 – Lg. $47.95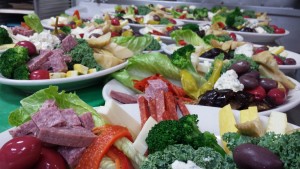 Italian Pasta Salad
Sm. $29.00 – Lg. $38.95
Country Potato Salad
Sm. $30.95 – Lg. $45.95
Cole Slaw
Sm. $16.00 – Lg. $29.00
Joe's Tuscan Bean Salad
Sm. $32.00 – Lg. $47.95
Old Fashioned Macaroni Salad
Sm. $29.00 – Lg. $38.95
Gallon Iced Tea
$7.49
Gallon Lemonade
$7.49
Dozen & A Half Desserts (12 cookies/6 brownies)
$18.00