Click to download our Lunch Salads Menu
Are you looking for a healthy lunch option in Richmond, Virginia? Our boxed salads are the perfect choice for you! Our salads are prepared each morning using the freshest local ingredients. Salads include bread and a fresh baked cookie.
minimum order of 10 Vegetarian   Gluten-Free
Premium Salads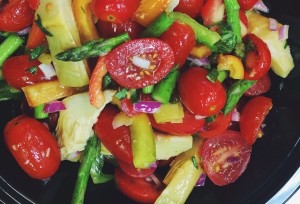 Greek Salad 
Crisp lettuce, feta cheese, cucumber, tomatoes, pepperoncini, kalamata olives tossed with traditional dressing: olive oil, lemon juice and oregano.
$8.79
Chicken Cobb
All white-meat chicken breast, romaine, vine-ripened tomatoes, applewood-smoked bacon, Gorgonzola, hard-boiled egg, fresh avocado & "house white" balsamic vinaigrette.
$10.29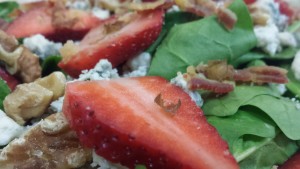 Spinach Salad Supreme
Seasonal berries, blue cheese crumbles, crisp pancetta, toasted walnuts over baby spinach with raspberry vinaigrette.
$9.49
Pickled Beet & Goat Cheese Salad 
Local Arugula, sun dried cranberries, house pickled beets, avocado, goat cheese, toasted walnuts and "house white" balsamic vinaigrette.
$9.79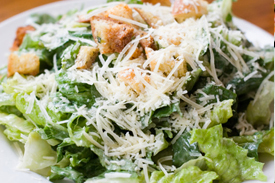 Classic Caesar Salad
Romaine lettuce, crunchy croutons, shredded parmesan cheese and original caesar dressing.
$7.49 – Add chicken $3.95
Memphis Salad 
Cherry tomatoes, multi-colored peppers, capers, artichokes, asparagus, red onions and fresh mint tossed in red wine vinaigrette over mixed greens.
$10.29
Italian Specialty Salads
Mediterranean Favorite
White tuna, boiled potatoes, green beans, feta cheese, tomatoes, black olives over mixed greens with white balsamic vinaigrette.
$9.29
Italian Antipasto Salad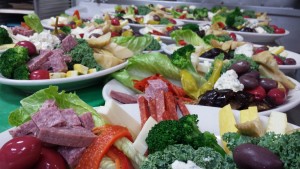 Tomato, olives, artichokes, pepperoni, Genoa salami, provolone cheese and roasted eggplant over mixed greens with "house white" balsamic vinaigrette.
$9.49
Caprese Salad 
Fresh tomatoes (Hanover when available), buffalo mozzarella, sweet basil, extra-virgin olive oil over Romaine.
$8.79
Roasted Red Pepper Pasta Salad
Half-cut rigatoni pasta, tossed with roasted red and yellow peppers, bocconcini (small mozzarella bites) and toasted almonds tossed in extra virgin olive oil.
$10.49
Old Fashioned Salads
Dressings: Caesar, blue cheese, ranch, "house white" balsamic vinaigrette, Italian and raspberry vinaigrette.
Chef Salad
Mixed greens, tomatoes, cucumber, hard boiled egg, topped with julienne turkey, ham, American and Swiss cheese and choice of dressing.
$8.95
Shrimp Salad
Bay Shrimp dusted in Old Bay over avocado and mixed local greens with tomato, cucumber and topped with Thousand Island dressing.
$10.25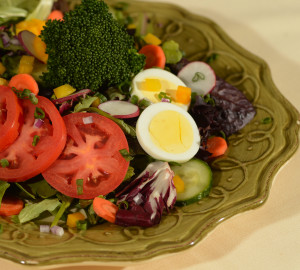 Mixed Greens Garden Salad 
Mixed lettuce, tomatoes, cucumber, onion, celery, carrots and choice of dressing.
$6.95 Lg/ $4.95 Sm
Chicken Salad
Homemade, all white meat chicken served over mixed greens with tomatoes, cucumbers, carrots.
$7.95
Tuna Salad
Chunk white tuna, celery, onions, sweet relish blended with Duke's mayo over mixed greens with hard boiled egg and black olives.
$7.95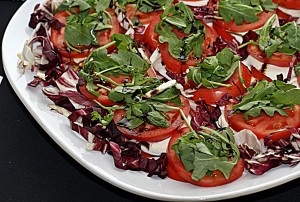 Egg Salad 
Deli-style with chopped eggs mixed with onions, celery and Duke's mayo over mixed greens.
$6.95
Beverages
Iced Tea freshly-brewed, 1 gallon $7.49
Lemonade, 1 gallon $7.49
Cranberry Juice – Ocean Spray, 6 ounces $1.25
Tomato Juice – V8, 11 ounces $1.75
Coffee Freshly-brewed, 96 ounce box $13.75
Orange Juice – Tropicana florida, 10 ounce bottle $2.00
Coke, Sprite or Diet Coke, 12 ounce can $1.50
10 pound bag of ice $1.49
Sweets (by the dozen)
Lemon bars – homemade $19.99
Brownies – Chocolate $18.00
Chocolate Chip Cookies $11.88
Sugar Cookies $11.88
Oatmeal Raisin Cookie $11.88