Pleasing Brides and Mothers for 25 Years.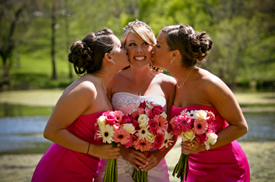 Because a wedding is likely the most special event of your life, you deserve a catered experience not only with fine food, but personalized, stress-relieving service and attention to detail, too. Since 1984, DeFazio's Catering service in Richmond VA has made showers, rehearsal dinners and wedding receptions truly memorable occasions.
In addition to our beautiful, skillfully prepared award winning cuisine, Joe and Coleen will work with you to arrange all the details for your wedding catering service, including…
Venue Selection & Site Inspection
Menu Selection
Bar Service and Wine Pairings
The proper compliment of Chefs, Servers and Bartenders
Wedding cakes and Groom's cakes
Table Settings, Linens, Tents, Tables, Seating and Decor
Venues (we are approved at over 50 locations) including plantations, museums, parks, community clubs and even the race track at Colonial Downs
Floral Arrangements and Centerpieces
Limo Service, Coach Transportation, Valet Parking
Elegant Horse Drawn Carriage Rides
Entertainment
Special: DeFazios will Marry You for $25!
For a limited time only DeFazios will cater your wedding reception for only $25 per person.Call 804-337-9561 for additional information.
Prepackaged $25 Menus
---
The Traditional
Garden Salad with Two Dressings
Sliced Top Round of Black Angus Beef in Red Wine, Mushroom Sauce
Brides Choice of Cheese Scalloped or Roasted Garlic Mashed Potatoes
Sautéed Green Beans
Fresh Baked Rolls and Butter
Ice Tea with Lemon and Sweeteners
Fresh Brewed Coffee with Sweeteners and Creamer
---
The Italian
Italian Salad with Tomatoes, Olives, Onions Pepperoncini and Italian Dressing
Chicken Parmesan Smothered in Mozzarella Cheese and Marinara Sauce
Rigatoni with Marinara Sauce
Italian Garlic Bread
Ice Tea with Lemon and Sweeteners
Fresh Brewed Coffee with Sweeteners and Creamer
---
The Seafarer
Mixed Green Salad
Grilled Atlantic Salmon Filet with Lemon, Parsley and Caper Sauce
Yellow Rice Pilaf with Diced Carrots and Scallions
Chef Select Seasonal Vegetable
Rolls and Butter
Ice Tea with Lemon and Sweeteners
Fresh Brewed Coffee with Sweeteners and Creamer
---
Appetizer Add-ons for the $25 Menu:
Vegetable Crudite $1.99 per person
Vegetable Flower "A DeFazio's Signature Display" $2.79 per person (Asian Cabbage Artfully Designed with Chef Carved Vegetables, Radish Tulips, Turnip Roses, Fluted Mushrooms and Much More)
Seasonal Fruit and Cheese Display served with Crackers $3.49 per person
All Beef Meatballs in Marinara Sauce with Parmesan Cheese $1.75 per person
Passed Assorted Bruschetta (Tomato, Olive, Gorgonzola) $1.25 per person
Passed Assorted Bruschetta and $2.99 per person
Specialty Canapé Selection to include all of the following:
Tomato Bruschetta, Olive Bruschetta
Gorgonzola and Red Pepper Bruschetta
Smoked Salmon with Dill and Lemon served on Cucumber Slice
Chicken Salad Croustad and More
---
Two Entree Choice Menus designed just for the Two of You!
---
Platinum Special $32.95 per person
Caesar Salad
Pre-Carved Roasted Pork Loin served with Fruit Chutney
Lemon Chicken with Parsley and Lemon Cream Sauce
Brides Choice of Roasted or Mashed Potatoes
Yellow Rice Pilaf with Diced Carrots and Scallions
Sautéed Green Beans
Buttered Corn
Rolls and Butter
Ice Tea with Lemon and Sweeteners
Fresh Brewed Coffee with Sweeteners and Creamer
---
Surf and Turf Special $36.95 per person
Brides Choice of Spinach or Caesar Salad
Petite Black Angus Beef Tenderloin (5 oz)
Gulf Shrimp Duo Stuffed with Crab Imperial and Lemon Cream
Imported Penne Pasta with Homemade Marinara Sauce and Parmesan Cheese
Roasted Garlic Mashed Potatoes
Steak House Style Creamed Spinach
Sautéed Mushrooms in Clarified Butter
Rolls and Butter
Ice Tea with Lemon and Sweeteners
Fresh Brewed Coffee with Sweeteners and Creamers
**All special packages include complimentary black or white plastic plates, utensils, napkins, and cups
**Other charges may apply such as service fees, chef fees, bartender fees, VA state tax
**Stemware, Flatware, and Linen napkins may be added on a "at cost" basis. Ask for details.
**DeFazio's has a full ABC license and insurance. If you are interested in having DeFazio's supply your alcohol, please ask us about your special rates!
---
DeFazio's Wedding Menu Suggestions
Choose from any of our prepackaged, discounted favorites or custom build your own menu. Select from extensive Hot & Cold Hors D'oeuvres, Chef Attended Carving & Sauté Stations or bring your own favorite recipe and we'll make it better! Get started today by viewing our Lunch or Dinner menus or DeFazio's Menu Packages.
---
Venues

DeFazio's Catering is the preferred wedding caterer in Richmond, Virginia and top choice of over fifty area establishments. Whether it is a wedding for five hundred or an intimate rehearsal dinner for twenty-five we can help you pick out just the right venue. Call or email Joe or Coleen today with the specifics of your event so they can help you choose the perfect venue! Plus they will visit the site with you – at no charge – just to make sure it is exactly what you want
---
Beverage Service

DeFazio's Catering offers a full bar tended bar service with professional, experienced bartenders – fully insured with over $1,000,000 liquor liability insurance. We're also flexible. Just need setups? No problem. Just professional bartenders? We can handle that as well.
You also might want to consider something a bit different. We can provide you with Specialty Bars such as a Martini Bar, Wine Tasting Bar, Fresh Juice Bar, Espresso and Cordial Bar or a Cigar Bar.
And don't forget the wine! DeFazio's Catering can help you pick just the right wine to compliment your menu
---
Equipment Rental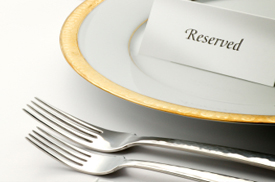 The DeFazio's Catering event planning team is excited to help you with all your rental equipment needs.
Our extensive network of local (as well as nation-wide) resources allow us to provide you with a huge selection of tents and canopies, linens, tableware, tables and chairs, and specialty items. We'll save you money and time by coordinating the pickup and delivery of these items at no extra charge.
---
Decor and Flowers
Presentation is paramount to an event's success. We take extra care to make sure that everything from the food to the decorations looks just right. Our in-house design team can do it all for you. We can also work with your own florist or help you choose from our list of recommended florists.
Additional Services

Photographers
Security
Valet Parking
Transportation
Buses & Limos
Balloons
Magicians
Comedians
DJ's & Bands
Horse & Carriage Rides
Testimonials
Nobody says it better than our customers. Click Here to see what your neighbors are saying about DeFazio's Catering. We are also happy to provide you with contact information for some of our many satisfied customers.
Let us make you into another happy customer. Try our local Central Virginia and Richmond wedding catering service for yourself. Here at DeFazio's we cater your every need.